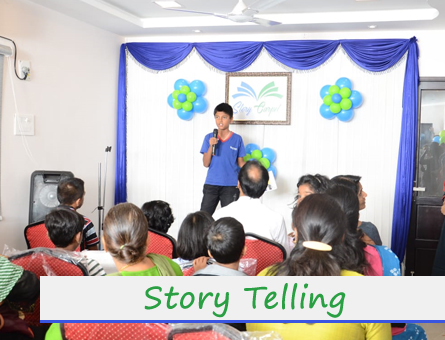 Story Telling (5-10 years)
Storytelling is a practice that dates back many centuries. The first myths and fables were passed down orally through storytelling. Many of the classic stories that we know now were first passed down orally through generations. Storytelling is not just an art, it is a skill. And it is a skill that can be learned by anyone. Extensive vocabulary, effective communication, and good presentation skills all make up storytelling, and can be learned by anyone.

This course teaches students the basics of storytelling by:

Expanding vocabulary
Teaching how to overcome fear
Learning effective communication skills
Effectively presenting a story
Teaching morals through fables
Where:
Zoom (Online Mode)
Sara's Transformation
"Before attending this course, sixth-standard student Sara was very shy and reserved. She did not speak to her classmates and did not know how to communicate effectively. She struggled during presentations, and would stumble and forget her words. After attending the storytelling workshop, Sara learned how to overcome her fear and communicate in an effective manner. She learned techniques for storytelling which helped her be more engaging during school presentations. She also improved her vocabulary a lot and learned how to structure a story. Sara's transformation was made possible only by this storytelling course."